Syria 'ready' for refugees to return, says Foreign Minister
Comments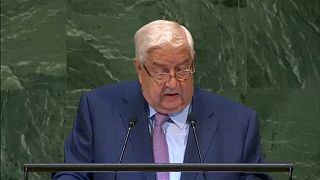 Syria says it's ready for the voluntary return of refugees and is appealing for help to rebuild the country devastated by a more than seven-year long war.
Speaking to the United Nations General Assembly, Foreign minister Walid al-Moualem said conditions in the country are improving.
"Today the situation on the ground is more stable and secure thanks to progress made in combating terrorism," he said. "The government continues to rehabilitate the areas destroyed by terrorists to restore normalcy. All conditions are now present for the voluntary return of refugees to the country they had to leave because of terrorism and the unilateral economic measures that targeted their daily lives and their livelihoods."
The UN estimates that more than 5.5 million Syrians have fled the country since the war began in 2011. Another six million people still living in the country are in need of humanitarian assistance.
Al-Moualem said the Syrian regime would welcome help in rebuilding the devastated country. But he stressed that it would not accept conditional assistance or help from countries that sponsored the insurgency.