Security is stepped up in Berlin for Turkish President's arrival
Comments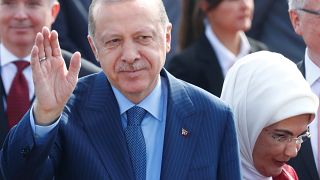 The Turkish president visits Germany for the first time since 2014 and he'll hold talks with Chancellor Angela Merkel and President Steinmeier.
Tayyip Erdogan arrived in Berlin on Thursday for a visit aimed at reducing tensions between the two NATO allies at a time when Turkey's economic troubles are causing growing concerns and Europe needs Ankara's support to keep down the flow of migrants.
Dozens of chanting supporters of Erdogan took to the streets in Berlin on Thursday waving Turkish flags and a huge white banner with a photograph of their idol.
The visit has been classed with the highest security level with 5000 police officers on the streets of Berlin. Large parts of the capital are blocked off.
One security concern is the protest that has been called for Friday. Tens of thousands of people, including left-wing groups and Kurdish groups are expected to attend. And there's a worry that nationalistic Turkish groups will try to disrupt the demonstration.