Erdogan visit to Germany prompts rival demonstrations
Comments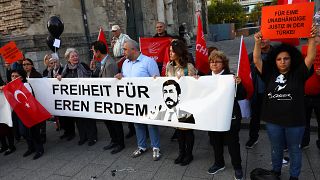 Supporters chanted his name in eager anticipation but outside the airport a different welcome was being prepared for the Turkish President.
"Mr Erdogan lands in Berlin, journalists land in prison," read a poster from Reporters without Borders, a taster of more expected to come.
Recep Tayyip Erdogan touched down in glorious sunshine but relations between Ankara and Berlin are clouded over the issue of human rights.  Dozens of German citizens were among those imprisoned after the alleged coup attempt against the President two years ago.
Angela Merkel has promised to raise the human rights issue.
But there is though an interest in overcoming differences. Germany is home to some three million ethnic Turks and needs Erdogan's help managing the flow of refugees coming from Syria.
Erdogan's supporters will be looking for more financial aid from Germany to help their homeland overcome its current economic difficulties. But one item on their wishlist has already been crossed off - it was Gemany not Turkey that was awarded the hosting of the Euro football finals in 2024.