Watch: Seal slaps kayaker's face with octopus in New Zealand
Comments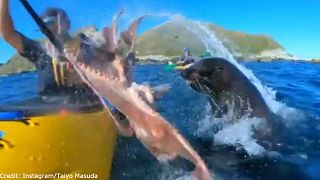 A fellow kayaker captured the unlikely moment a seal slapped his friend Kyle Mulinder across the face with an octopus.
The team of kayakers were testing out their GoPro Hero7 camera while on a mid-September trip to Kaikoura on New Zealand's South Island when Taiyo Masuda filmed the footage.
In an interview with the BBC, Masuda said: "We were just trying to shoot cute seals, but it ended up being very brutal."
In the footage, the seal can be seen launching itself out of the water wielding an octopus in its mouth and striking the unsuspecting kayaker across the face.
"My friend Kyle wasn't in the right place at the right time," added Masuda.