Germany wins right to host 2024 Uefa European Championships
Comments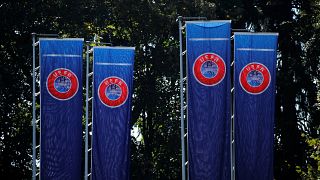 Germany has been successful in its bid to host Euro 2024, beating Turkey.
Uefa president Aleksander Ceferin made the announcement at a ceremony in Switzerland following a vote by the executive committee of European soccer's ruling body.
Both countries presented their final bids to Uefa before the decision was announced.
An evaluation report by European football's governing body said giving the right to host to Turkey presented "risks".
Germany and Turkey were the only candidates bidding to stage the 24-team tournament.
Watch the announcement in full here: