What is Labour's Brexit motion? | Euronews answers
Comments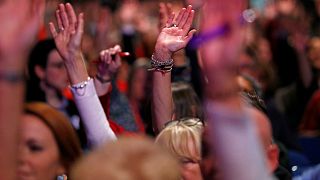 Britain's main opposition Labour party on Tuesday voted overwhelmingly in favour of its Brexit motion, which keeps open the option of a second referendum.
Only a few members of the party voted against the motion, which passed at its conference in the northern city of Liverpool.
What is the motion?
The motion says that if British Prime Minister Theresa May's Brexit plans collapse and the ruling Conservative party refuses to call an election, Labour "must support all options remaining on the table including campaigning for a public vote".
"If the government is confident in negotiating a deal that working people, our economy and communities will benefit from, they should not be afraid to put that deal to the public," it adds.
Could 'remain' still be an option?
Speaking in favour of the motion earlier on Tuesday, Shadow Brexit Secretary Keir Starmer said the party would vote against a Brexit deal along the lines being proposed by May because it does not meet the "six tests" it has set, including guarantees on workers' rights and retaining the economic benefits of existing market arrangements.
He added that if parliament rejects May's deal, the party would press for a general election, and if this was not possible, "other options must be kept open".
"If we need to break the impasse, our options must include campaigning for a public vote and nobody is ruling out 'remain' as an option," he said to a prolonged standing ovation in the packed conference hall.
How significant is the motion?
The UK is due to leave the EU on March 29 and negotiations are still taking place with the EU.
Parliament will vote on the outcome of the talks, and May has said there will be a choice between her deal or leaving without one.
May has a working majority of just 13 in the 650-seat parliament and divisions in her own party over Brexit mean that Labour could have a crucial role in deciding whether the deal gets through.
However, Labour's motion offers no guarantee that a second referendum will be held even if the deal doesn't get through parliament, and the wording of any possible vote has been left vague.
Speaking after Starmer, Steve Turner, assistant general secretary of trade union Unite, said any vote on the outcome of Brexit negotiations could not be a re-run of the 2016 in-out referendum.
"Despite what Keir said earlier, it's a public vote on the terms of our departure," he said.
Does Corbyn support a second referendum?
Labour leader Jeremy Corbyn said he would respect the result of the party vote.
"We will challenge this government. If they don't meet our six tests, we will vote against it, and then we will take it from there," he said in a television interview.
He has declined to reveal which way he would vote in a second referendum because "it depends what the question is".
How has May reacted?
While the motion received overwhelming support at the Labour conference, it has not been welcomed by everyone.
May has branded Labour's intention to vote against any agreement that falls short of its demands as "not in the national interest", while Junior Brexit minister Robin Walker accused the party of "playing political games".
The Conservative Party press office on Tuesday evening accused Corbyn of "breaking his manifesto pledge and taking us back to square one."