Tiger Woods remarkable comeback
Comments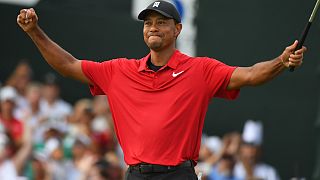 U.S. golfer Tiger Woods achieved his first win in five years to complete an impressive comeback. The 42-year-old came in at eleven under to win the Tour Championship by two shots in Atlanta, Georgia. It marks his 80th PGA Tour title.
Just under a year ago Woods was ranked 1,199 in the world after major spinal surgery threatened to end his professional career.
"I was having a hard time not crying the last hole," said an emotional Woods. "I said, hey, you know what, I can still blade this thing out of bounds. Just suck it up and let's hit some shots. Here, and once I got the ball on the green, I gave Joey a high five because it was done. I could handle that from there."
Woods' enduring popularity was obvious as he walked up the fairway surrounded by thousands of cheering fans.