Republicans wrestle with Kavanaugh impact on midterms
Comments
By Leigh Ann Caldwell with NBC News Politics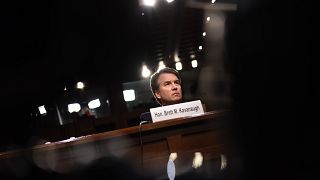 -
Copyright

Brendan Smialowski AFP - Getty Images file
WASHINGTON — With Supreme Court nominee Brett Kavanaugh's confirmation hanging in the balance after an allegation of sexual assault from high school, Republican operatives are growing increasingly concerned that the controversy is contributing to a larger atmosphere of dysfunction and chaos in Washington that is motivating voters against them in the midterm elections.
As the GOP has lost ground among women voters in the #MeToo era, Republican strategists are cognizant of the delicate optics surrounding the potential public hearing this week between Kavanaugh and his accuser, Christine Blasey Ford.
President Donald Trump's tweet Friday morning questioning Ford's account, is not the message Republicans wanted to project, GOP strategists say. Further complicating the party's message, some Republican candidates are taking a similar tact in an effort to defend the nominee.
"This has become a muddled mess for the GOP," said Michael Steele, former chairman of the Republican National Committee.
Republicans have been engaged in discussions all week to strategize how to avoid another Anita Hill scenario, when she was harshly questioned by a panel of powerful men in the Senate Judiciary confirmation hearings for now-Justice Clarence Thomas. Since Ford's allegation surfaced last week, the party has seen moments that Democrats are seizing on, including when Sen. Orrin Hatch, R-Utah, told NBC News that Ford was "mixed up" in her recollection.
The Senate Judiciary Committee is tentatively set to hear from both Kavanaugh and Ford this Thursday, setting up the possibility for a full week's worth of fireworks. But the accusation is already infusing races across the nation.
Former Alabama Senate candidate Roy Moore said Republicans "need to take a stand" in support of Kavanaugh but they won't because "they don't like criticism."
The liberal advocacy group Demand Justice is running television advertisements in key states connecting Trump's "Access Hollywood" tape comments from the campaign trail, to his support of Moore, who was accused by multiple women of improper sexual misconduct when they were minors, to his nomination of Kavanaugh.
Some Republican candidates are expressing support for the nominee and questioning his accuser on the campaign trail. Rep. Kevin Cramer, running for the Senate in North Dakota Senate, said that Ford's allegation is "even more absurd than" Anita Hill's because, he said, they had been teens and were drinking. His opponent, Democratic Sen. Heidi Heitkamp, called those comments "disturbing" in a statement.
A day later, Cramer walked back his statement, telling NBC News that any allegation of sexual assault should be taken "seriously," but he also added that it's hard not to be "skeptical" of Ford's assertion.
Guy Cecil, director of Priorities USA, a group that helps to elect Democrats, said that the real test will be how Republicans address the sensitivity of the accuser.
"It's just not about the committee vote or the final vote or whether Kavanaugh is put on the bench, it's also about the way Republicans have handled this and how they have treated her," Cecil said.
But the controversy is also putting a handful of Senate Democrats running for re-election in Republican-leaning states in a more difficult spot. A vote in favor of a Supreme Court nominee with a blemish free record and moderate stances could have been an easy way to show voters they can be an independent voice and split with their own party.
But now, in light of the allegation, it could be more difficult for Sens. Heitkamp, Joe Manchin of West Virginia and Joe Donnelly of Indiana, to buck their own party, risking their independent credentials.
"The whole story line complicates what could have been a simple yes vote," for those Democrats said one Republican operative. "In those states Trump voters are real."
Polling is starting to show that the news for Kavanaugh is seeping into the electorate.
An NBC News poll released on Thursday shows Kavanaugh, who had already been an unpopular Supreme Court nominee, that he is the first candidate to have fewer people support him than oppose him.
Kavanaugh's loss of support is most prominent among independent voters, where he had a net of 15 percent support in July compared to negative 16 net support now. And much of the loss has come from women, where 27 percent opposed him earlier this summer compared to 42 percent who oppose him in September.
But the group that has the strongest support of Kavanaugh is Trump's base voter. Kavanaugh's approval improved slightly among this group of men and women. Democratic opposition to Kavanaugh hardened. Strategists say both sides are likely to be motivated by the controversy.
"The midterms are considered a base election and both sides are going to be energized by this," said Ron Bonjean, a GOP strategist at the firm Rokk Solutions.
The dynamic is slightly different from House to Senate races as well. Even though the House of Representatives has no role in confirming Supreme Court nominees, all 435 House seats are up, including many vulnerable Republicans in suburban districts where voters have been turned away from the chaos of the president.
"Republicans running in these suburban districts desperately need a conversation about the economy and how things are going, but they are getting everything but that," one Republican strategist who is working closely on midterm races, said. "The conversation instead is about the Mueller (probe) and other complications at the White House and now this. That's taking all the attention away from the economy."
It does, however, fall nicely into the message Democrats are pushing on the campaign trail: Voters want a check against the president.
"Voters in every state say that they have a preference for a divided government or a check and balance, and my hunch is these developments will exacerbate that dynamic," said a Democratic strategist working on midterm races.
And as it's looking more likely that Ford is going to testify next week, it continues a story that forces Republicans to keep preparing for an unpredictable final next few critical weeks ahead of the midterms.