All eyes on Trump as world leaders gather for UN General Assembly
Comments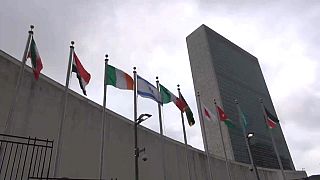 World leaders have been heading to New York for the 73rd United Nations General Assembly.
After President Donald Trump used last year's meeting to outline his ''America First'' foreign policy, the EU delegation is one of many stressing the importance of old alliances and partnerships.
The European Union's Ambassador to the UN, João Vale de Almeida, told Euronews: "We are a great supporter of multilateralism. We want to strengthen this rules-based system. And we feel that it is maybe being attacked, challenged by some crisis in the making. We want to stop that.''
The push to denuclearise the Korean peninsula and the Trump administration's tough stance on Iran are expected to be high on the agenda.
Foreign aid is also likely to feature, according to the US Ambassador to the UN, Nikki Haley.
"The USA is generous, we are going to be generous to those that share our values, generous to those that work with us, and not to those that try to stop the United States and say that they hate America,'' Haley said.
Presiding over the 73rd session will be Ecuador's Minister for Foreign Affairs Maria Fernanda Espinosa Garces.
Garces – the first Latin American woman to preside over the Assembly -- says her priority will be making the UN what she called ''the parliament of humanity''
As such world leaders will also be focused on trying to solve several humanitarian crises, from Myanmar to Yemen and Syria to South Sudan.
Euronews correspondent at the UN, Michela Monte, says the General Assembly sometimes delivers constructive diplomacy, such as in 2015 when the Obama Administration "nudged'' delegates towards the Paris climate change accord.
But this week, all eyes will be on President Trump.