Woman who accuses U.S. judge of sexual misconduct given more time to decide on hearing
Comments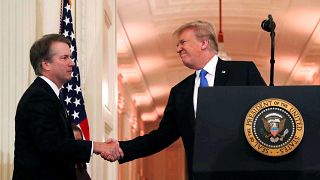 A woman who has accused U.S. Supreme Court nominee Brett Kavanaugh of sexual misconduct has been granted more time to decide if she'll testify against him.
The lead Republican on the judiciary committee, Chuck Grassley, said he granted another extension to university professor Christine Blasey Ford because he wants to hear from her, but that she should decide so they can move on.
President Donald Trump supports Kavanaugh's nomination to the Supreme Court and made that clear at a rally on Friday:
"We have to fight for him. Not worry about the other side. And by the way, women are for that more than anyone would understand."
Professor Ford claims the incident in question took place in 1982 at a party. She said Brett Kavanaugh was drunk and tried to remove her clothing at a party while pinning her to a bed. She was 15 and he was 17.
 Brett Kavanaugh has repeatedly denied the allegations. The new extension for Ford to decide if she would testify was due to expire at nine thirty 2130 Saturday.