Russians rally against changes to retirement age
Comments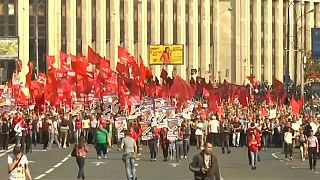 Tens of thousands of Russians have joined nationwide rallies to protest against plans to raise the retirement age.
Several thousand attended a rally in Moscow organised by the Communist Party and other leftist groups.
The government plans to lift the retirement age from 60 to 65 for men and 55 to 60 for women. Average life expectancy for men is 66 and for women 77.
It has alarmed those who fear they won't live long enough to collect significant benefits, and younger generations worried that keeping people in the workforce longer will limit their own employment opportunities.
The proposal has dented President Vladimir Putin's popularity. His personal approval rating has fallen around 10 percentage points since the pension reforms were proposed, although it still stands at around 70 per cent.
While state pensions average just 170 euros a month, they are a lifeline for millions of Russians without relatives able to support them financially.