Russia pension reform bill moves forward
Comments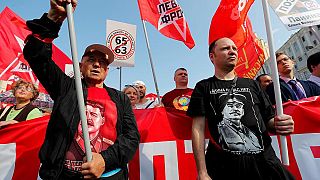 Russia's lower house of parliament on Wednesday (September 26) passed an amended draft law that would raise the country's retirement age from 60 to 65 for men and from 55 to 60 for women.
It was the critical second reading of the proposed bill and sets the final terms of the law.
The government's bid to reform the pension system has been highly controversial from the out set.
The leader of the country's Communist Party called the effort "social terrorism" and said it was rejected by "the entire society".
The controversial measure is meant to relieve pressure on government coffers but has led to nationwide mass protests.
The draft bill has been amended in line with President Putin proposals to water down reforms as the debate has seen his personal approval rating drop by up to 15 points.