Pope recognises 7 Chinese bishops in historic agreement
Comments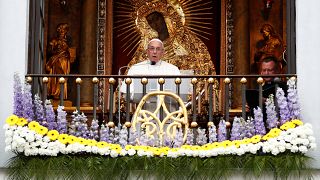 -
The Vatican said the Pope has recognised seven state-appointed Chinese bishops during his four-day trip in the Baltics.
The historic deal hopes to "allow the wounds of the past to be overcome" and lead to full Catholic unity in China.
The agreement was signed in Beijing and announced while Pope Francis was visiting Lithuania on Saturday.
"The signing of a provisional agreement between the Holy See and the People's Republic of China concerning the appointment of bishops is of a great importance, especially for the life of the (Catholic) Church in China, for the dialogue between the Holy See and authorities of that country and also for the promotion of a horizon of peace in these present times in which we experience so many tensions at the international level," said Pietro Parolin, the Vatican's secretary of state".
Adding: "So, to overcome past misunderstandings, past tensions, even the recent ones, in this way they (bishops) can really contribute and they will be able to perform the duty of the Church, which is the announce of the Gospel."
China's communist party and the Vatican have been divided about the ordination of bishops since each bishop has to be a member of the China Patriotic Catholic Association (CCPA), ensuring their loyalty to the government and limiting any power struggles between political and religious leaders.
Ordination of bishops
There are seven bishops appointed by the CCPA but not recognised by the Vatican, then 20 bishop candidates who have been appointed by the Holy See, and in some cases already secretly ordained, according to the Irish Times.
Then there are another 40 "underground" bishops whose legitimacy is accepted only by the Vatican and who live in constant danger of arrest.
About 60 bishops are recognised by both the Holy See and the CCPA.
The communist government of the People's Republic of China (PRC) under Mao Zedong expelled the last Vatican diplomat in 1951, and the Vatican is struggling to return under its own terms.
The Vatican has extended diplomatic recognition to the Republic of China since 1942, according to The Diplomat.
Religious groups vs the Communist Party
China, a known atheist country, continues to clamp down on religious groups and leaders. In the past, Beijing and several provinces have destroyed crosses, burned Bibles and shut churches, ordering followers to sign papers renouncing their faith, according to pastors and a group that monitors religion in China, according to the Associated Press.
At the moment, China is being criticised for their crackdown on Muslims living in the western Xinjiang region, sending them to re-education camps.