Death toll rises in Philippines landslide
Comments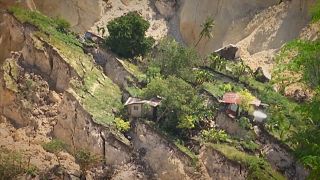 At least 29 people have died and dozens more are missing after another landslide in the Philippines. This latest disaster took place in the Naga district on the central island of Cebu, The landslide affected a whole section of a hillside, engulfing houses in three villages.
Rescue operations are still going according to Kristine Chiong, the mayor of Naga City:
"There are still signs of life. That's why we demolished houses so our rescue teams can have easier access to ground zero of the accident," said Kristine Chiong, mayor of Naga City.
The incident came just days after the powerful Typhoon Mangkhut hit the northern Philippines, killing more than eighty people. Many of those victims were also killed in landslides provoked by torrential rain and flooding.
Authorities in Naga have limited the number of rescuers and other people inside the villages, fearing heavy rain on the loose and soaked ground could cause new slides.
Some residents blamed limestone quarries, which they suspect may have caused cracks in the mountainside facing their villages.