Europe briefing: 4 things to know about today
Comments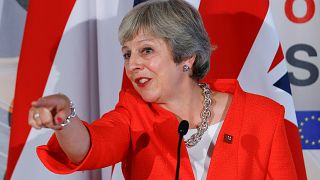 1. British media says May's Brexit plan goes pop after 'humiliation' by EU
Prime Minister Theresa May's Brexit proposals were declared "dead" by the British media on Friday after what they cast as a humiliation at the hands of European Union leaders at an informal summit in Salzburg.
EU leaders said they will push for a Brexit deal next month but warned May that if she will not give ground on trade and the Irish border by November they are ready to cope with Britain crashing out.
2. Death toll reaches 100 in Tanzania ferry disaster
More than 100 bodies have been retrieved after a ferry sank on Lake Victoria and hundreds more were still feared missing as rescuers searched for survivors from daybreak on the morning after the disaster.
Radio TBC Taifa reported the latest toll from the sinking of the ferry MV Nyerere, which capsized on Thursday afternoon just a few metres from the dock on Ukerewe, the lake's biggest island, which is part of Tanzania.
3. US slaps China with sanctions for buying Russian fighter jets and missiles
The Trump administration imposed sanctions on the Chinese military for buying fighter jets and missile systems from Russia, in breach of a sweeping US sanctions law punishing Moscow for meddling in the 2016 U.S. election.
In Beijing, the Chinese government expressed anger and demanded the sanctions be withdrawn.
4. Ancient animal fossil is the oldest on record
Scientists from The Australian National University (ANU) and overseas have discovered molecules of fat in an ancient fossil to reveal the earliest confirmed animal in the geological record that lived on Earth 558 million years ago.
The strange creature called Dickinsonia, which grew up to 1.4 metres in length and was oval shaped with rib-like segments running along its body, was part of the Ediacaran Biota that lived on Earth 20 million years prior to the 'Cambrian explosion' of modern animal life.