The world comes to Siberia as Krasnoyarsk prepares for the Student Winter Games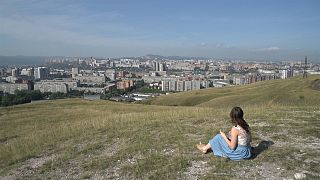 "Follow Us in Siberia" has visited Krasnoyarsk, a city located in the heart of Siberia at the base of the Sayan Mountains, a city that defies expectations, with a dynamic outlook, and a vibrant, young population.
"Here on the banks of the Yenisei the Student Winter Games will be held in March 2019. We came to Krasnoyarsk with bloggers from different parts of the world in order to see with our own eyes how Siberia is preparing for the Universiade, a multi-sport event usually referred to as the Student Winter Olympics," reports euronews' Sergey Sherbakov.
The international cross-cultural program, "Follow Up Siberia" was founded by Norislk Nickel. It is for active young people who want to discover the real Siberia and eventually become its ambassadors around the world.
"The Winter Universiade will be held in Russia for the first time on the heels of the country's first World Cup several month ago. The total budget for the games is over one billion euros. Apart from building sports facilities, the local authorities expect to significantly improve the infrastructure of the city, in order to turn the region into an attractive tourist destination".
The General Director of the "Winter Universiade 2019" Maxime Urazov says the event is about much more than just sports.
"For us the Student Winter Games are a great stimulus for the development of the city. New roads, new sports facilities, new public spaces. This is very important in order to open Krasnoyarsk and Siberia to the world, to show that Krasnoyarsk is a modern city where friendly people live. And we hope it is a success".
It is no accident that the Siberian husky was chosen as the games' mascot : the dog is a symbol of loyalty, friendliness and indomitable energy.