Taiga, taiga burning bright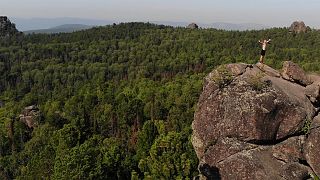 It is unimaginable to make a series of programmes called "Follow Us in Siberia" without referring to the region's stunning natural riches.
"Endless taiga and amazingly beautiful landscapes. Go to the very heart of Siberia, the "Stolby" nature reserve near Krasnoyarsk, on the spurs of the Eastern Sayan Mountains. Stolby is one of the oldest reserves in Russia. More than 600,000 tourists visit this place annually. From the point of view of flora and fauna it is one of Russia's richest reserves," reports euronews' Sergey Sherbakov. He visited the region with a group of young bloggers as part of the international cross-cultural "Follow up Siberia" program, founded by Norilsk Nickel.
When having a conversation about Siberia, the rich culinary traditions of the region are never far from peoples' minds. So, naturally, we went with the bloggers to see the famous local chef Alexey Rovinets. When preparing food, he draws his inspiration from Siberia's natural bounty.
"All the products that we use are local products, it's all local. Everything is found in Siberia", he says proudly.
Pelmeni, or dumplings, is a simple traditional dish that came into Russian cuisine from the Urals. But here, on the Yenisei river, it is prepared in a special way. For his dumplings, instead of beef Alexei Rovinets uses nelma and muksun - fish caught in the wild. And they taste delicious.