Texas great-grandmother shoots 12-foot gator as revenge for killing mini-horse
Comments
By Kalhan Rosenblatt with NBC News U.S. News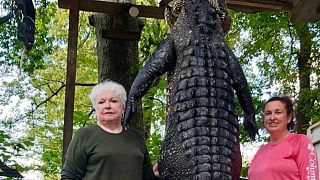 Granny got her gun — and the alligator that crossed her by eating her prized pony is history.
Judy B. Cochran, the mayor of Livingston, Texas, got her revenge on a 12-foot, 580-pound alligator she believes ate one of her miniature horses years ago when she killed it on Sunday, the Houston Chronicle reported.
"As big as this gator was, he could've easily eaten it," she told the Chronicle, adding that the gators typically leave them alone.
The gator was caught after being hooked using a seasoned raccoon as bait. Then, while the gator was roped and on the line, Cochran fired a single shot into the animal's head, killing it.
Cochran told the paper she met all the requirements for hunting the alligator and that the reptile is in season, but an animal right's group compared the shooting of the gator to shooting fish in a barrel.
"We may not understand alligators the way we do animals we're more familiar with, but we know that they're expert navigators, clever hunters, and fiercely protective parents who, most importantly, feel the same fear and pain that we do. Shame on the mayor for her cruel, cowardly act," People for the Ethical Treatment of Animals said in a statement to NBC News.
Cochran, who did not immediately respond to a request for comment made by NBC News, told the Chronicle she plans to use the gator for food, decoration and clothing.
"We'll eat the meat, have the head mounted and have the ridgeback part of the tail in my office. We'll have the hide tanned to make some boots out of it, you can only make boots from the belly," Cochran said.