Man at center of 3D gun case charged with sexual assault
Comments
By Pete Williams with NBC News U.S. News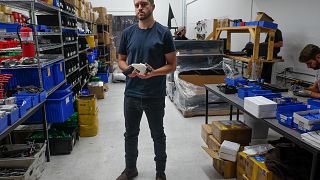 Copyright

Kelly West AFP - Getty Images file

-
Cody Wilson, the Austin, Texas man who set off anational debate over plastic guns by posting online plans for making them with a 3D printer, has been charged with sexual assault, according to Austin police.
An arrest warrant issued Wednesday said a juvenile woman, under the age of 17, told investigators that a 30-year-old man paid her $500 to have sex with him in mid-August at an Austin hotel. She said she met the man online and exchanged text messages. In one of them, police say, he identified himself as Cody Wilson and said he was "a big deal." The two also exchanged explicit photos of each other, she told investigators.
Detectives say police matched information from Wilson's driver's license to data he posted at the website where he met the woman.
Surveillance video of a coffee shop where the two met showed the man arriving in a black SUV similar to a vehicle registered to Wilson, the police report said. Video from the hotel where the woman said they had sex showed Wilson getting out of the black SUV with her, the report said, and surveillance video from inside the hotel showed Wilson and the woman getting out of an elevator and walking to a guest room.
Wilson was charged with having sex with an underaged person, a second-degree felony in Texas, punishable by a sentence of up to 20 years in prison and a fine of up to $10,000.
Phone calls to Wilson Wednesday were not returned, and no court records were available to show whether he retained a lawyer.
Wilson began posting directions for making plastic guns in late July, after the Trump administration dropped its opposition to his plan and settled a lawsuit that had prevented him from making the files available for download. When fed to a 3D printer, the plans allow a user to make the parts necessary for assembling fully functioning handguns or rifles.
Lawsuits filed by several states resulted in court orders issued last month that blocked him from maintaining the plans online. In response, Wilson said he would send the plans by mail to those requesting them.