Watch: Locals push to save Europe's largest wooden building from ruins
Comments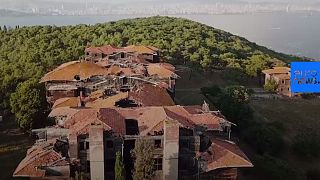 Locals and historians alike are hoping that this century-old wooden building in Turkey can be salvaged.
The building, which is the largest wooden structure in Europe, has decayed to ruins.
Built as a casino and hotel in 1899, the building later became an orphanage.
Between 1903 and 1964, the building on the island of Buyukada, the largest of the Princes' Islands near Istanbul, housed about 5,800 minority Greek children and was forced to shut due to political tensions between Europe and Turkey over the island of Cyprus.
Pianos remain hidden in the corner of rooms while dust continues to coat French furniture which gives a glimpse at the once lavish hotel.
Korhan Gömüs, an architect and professor of urban planning at Mimar Sinan University in Istanbul, hailed the fact that the building still stands to its architectural design.
"It is a very modern building. It was conceived with beams and columns that have been measured well and really good quality materials were used.
 The building was conceived by a very famous architect, this is why the structure has survived until today. The fact that the wooden flooring has not moved in 120 years testifies to its quality," he said.
Time is running out, however. The former orphanage was rocked by a fire in 1980 and may not survive if continuously neglected.
Erol Baytas, the 52-year-old guardian of Prinkipo, said that "it has been decaying for years but recently deteriorations are accelerating. 
This year it will not survive another winter if nothing is done. It is urgent to repair the building".
The preservation of the structure is not only important from a historical point of view but also a cultural one, according to Burcin Altinsay, Chairperson of Europa Nostra Turkey.
"It is a very important part of the culture and heritage of Istanbul, of the Greek population in Istanbul, or the Rum population rather, of Istanbul. 
And in general, it is an important part of our cultural heritage and it is really in danger," he said.
A team from Europa Nostra and from the European Investment Bank Institute is expected to compile a report on what needs to be done to save the building, although the clock is ticking.