Hungary decides whether to take legal steps to challenge European Parliament vote
Comments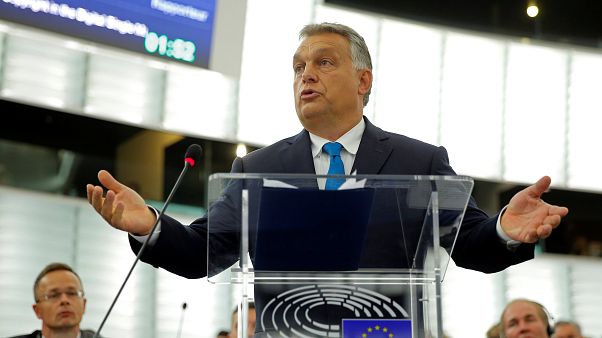 Hungary's government will decide today whether to take legal steps to challenge a European Parliament ruling against the country.
Last week MEPs voted to sanction Hungary for breaching EU rules on democracy, civil rights and corruption.
The Article 7 procedure could ultimately lead to the suspension of the country's voting rights. However, some EU countries, such as Poland said that they would veto any sanctions against Hungary.
Robert Csakany, Euronews Correspondent in Budapest said that the government has several options to consider, if they want to challenge the vote.
"The most obvious move would be to file a complaint to the Court of Justice of the European Union. The Hungarian government did that a lot of times before, let's just remember the case about the [migrant] quota - but they lost their cases several times there," said Csakany.
Yesterday people gathered in front of the Ministry of Foreign Affairs in Budapest to support the EP's decision and to protest against Hungarian Prime Minister Viktor Orban.
The demonstration was organized by left-wing opposition parties, including former Prime Minister, Ferenc Gyurcsany's Democratic Coalition.
At the protest Gyurcsany said that "Hungary became a dictatorship, which cannot be overthrown in the parliament, but on the streets,"