Israeli man stabbed to death in West Bank
Comments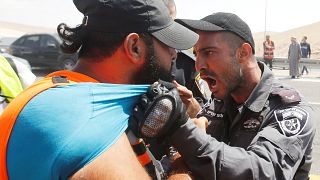 An Israeli man was fatally stabbed at a shopping mall in the West Bank on Sunday. Police said the attacker was a Palestinian who was shot and wounded by a civilian and is now in custody. The stabbed man was taken to hospital but was dead on arrival.
"At around 11:15 we received a report about a terror attack at the entrance of a mall in Gush Etzion," explained Avi Hovav from MADA, the Jerusalem rescue service. "Our paramedic who was in the mall at the time heard the incident and offered initial treatment to a critically wounded (man) who was later taken to hospital."
Video posted on social media shows the attacker lying on the ground after being wounded. Sporadic street attacks in Israelis have been taking place since peace talks collapsed in 2015.