Six dead in shooting in Bakersfield, California
Comments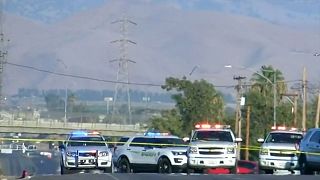 A gunman has shot and killed five people in a series of shootings on Wednesday in Southern California before taking his own life.
The man killed his wife and a man at a trucking company in Bakersfield, California, Kern County Sheriff Donny Youngblood told a news conference.
He then chased another man from the trucking company before he shot and killed him in front of a nearby sports store.
The gunman later killed two men at a residence. He then commandeered a vehicle from a woman and her child before he killed himself when he was confronted by a sheriff's deputy, Youngblood said.
The entire incident took place over 10 to 15 minutes, he said.
"This is the new normal, if you look across the country," Youngblood said, describing the incident as a mass shooting.
"Six people lost their lives in a very short period of time."
Authorities were working to determine "why this started and why so many players were involved and the connection because obviously these are not random shootings," Youngblood said.
Youngblood did not disclose the identities of the victims.
The woman whose vehicle was taken, and her child, were unharmed, he said.
Police recovered a pistol at the scene. Authorities were interviewing about 30 witnesses, Youngblood said.
Bakersfield is a community of 375,000 people about 115 miles (185 km) northeast of Los Angeles.