Hungary says it'll seek legal ways to challenge the European Vote
Comments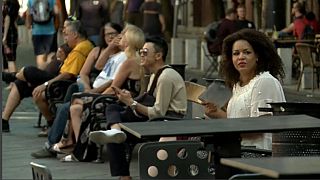 Hungary says it'll seek legal ways to challenge the 448 to 197 vote it describes as "petty revenge".
The votes highlight the substantial minority of European opinion who see Viktor Orban as a crusader for the rights of nation states.
Péter Szijjártó, Hungarian foreign minister says, "This decision made by the MEPs today is clear proof of the fact that in the European Parliament there's a massive majority of the pro-migration politicians. And today that fact was also proved among the European People's Party".
Orban has also led opposition to German Chancellor Angela Merkel and others who want Europe to take in more Muslim refugees.
This analyst says Orban's failed at an international level.
Attila Juhász, Analyst, Political Capital says "Already yesterday's debate showed more and more MEPs in the European People's Party are against Orbán, and this means for him that his role is weakening on the international scene".
This vote highlights tensions between nationalist and federalist camps, with Britain leaving the bloc and Europeans voting in European Parliament elections in May.
But what do people on the streets of Hungary think about it.
"This is almost like the inquisition, there are no exact points. I would have been happier if the report contains more facts about the lack of rule of law. Why doesn't the European Parliament discuss real problems?"
"It will not make any change, nothing, actually things will be worse. MPs recognize that some things are not ok in Hungary".