EU Parliament vote to punish Hungary over alleged flouting of democratic rules
Comments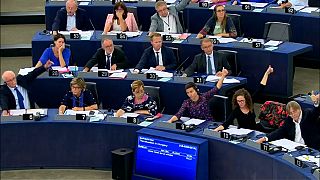 MEPs voted to start an EU punitive procedure against Hungary for allegedly persistently flouting democratic rules.
There were 448 votes in favour at the European Parliament. (693 voters, 448 votes in favour, 197 against, 48 abstentions).
A report by MEP Judith Sargentini brought about the vote and a standing ovation from other MEPs.
It's the first time the European legislature triggered the so-called Article 7 procedure against an EU member state.
Hungarian Prime Minister Viktor Orban says he would not bow to the EU's "blackmail" but stick to his policies.
The most severe punishment under the Article 7 procedure is stripping Hungary of its voting rights in the EU.
But Poland's nationalist and anti-immigration government is expected to block any tough action against Orban.