Green light for copyright reform
Comments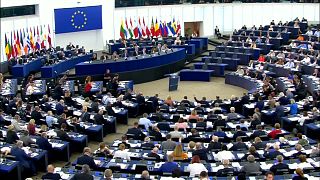 Google, Facebook and other technology firms could be forced to share more revenues with European media, publishers and other creative industries in a shake-up of copyright rules. European Union lawmakers voted for the controversial regulations to be redefined.
Its aim is to ensure creators of content are paid fairly in a digital world.
The ambitious law has provoked one of the most intense lobbying wars in European Union history. The draft law has been sternly resisted by major US tech giants as well as online freedom activists.
Sir Paul McCartney wrote a heartfelt letter to the European Union requesting musical artists were fairly paid for their work. But others, say the law could endanger the freedom of the internet.
The European Consumer Organisation (BEUC) say it regrets the outcome. Ursula Pachl, Deputy DG of BEUC (The European Consumer organisation) says, "That's (copyright) a perfectly fine principle and we really support that, but we also support the consumers if they want to become creators themselves. For example, if they dance to music and make a video out of that and they upload it on the internet, it should be possible for them because it is non-commercial, it does not harm anybody, it is a lot of fun for people to share that with friends and family and that is at risk because of the text that was adopted today."
Negotiations with the EU Council will start with discussions behind closed-doors and could take several months before a compromise is put to a fresh vote.