EU seeks to reform digital copyright laws
Comments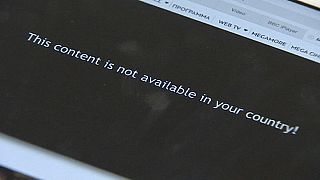 Politicians have paid lip service to creating a single market in digital services for years.
Now, the European Commission says it wants to let customers access country-specific content from the likes of Netflix and Amazon when they travel abroad "temporarily".
At present copyright restrictions mean a Briton who travels to France on holiday will miss out on their favourite football games as they cannot formally access the BBC's iPlayer application whilst abroad.
Günther Oettinger, the German politician whose team helped draft the proposed legislation, said that both citizens and the economy would benefit.
"In the global competition against the Americans and Asians the industry will be more competitive and thus maintain and create jobs in Europe," he told euronews in an interview.
But the Commission hasn't defined what temporary means, setting it up for a clash with media firms, TV channels and film studios.
EU officials say the different copyright regulations across the 28 member states stops a real single market being formed
But they have stopped short of the "Europe-wide" copyright laws that some members of the European Parliament have been demanding.
"The proposal on the portability solves only a very specific problem: those who have a streaming subscription, for example for Netflix, will be able to use it while being on holiday," said German MEP Julia Reda, who authored a report on the issue earlier this year.
"But it doesn't solve the problem of many people in Europe -who do not have any offer in their country but that they would like to use."
The problem is that selling rights to different European countries has been hugely profitable for broadcasters and film companies.
Any move to shake up the legal framework is likely to face stiff resistance from Hollywood, elite sports competitions, such as the English Premier League, and other rights holders across the EU.