How Raramuri runners dominate ultra-marathons in sandals | NBC Left Field
Comments
By NBC Left Field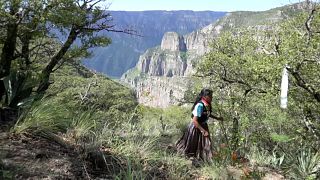 Indigenous Raramuri people have lived among the canyons near Guachochi, Mexico, for centuries, getting around by foot in nothing but sandals.
This has primed them for success in ultra-marathons — gruelling running races that can reach distances of 100 km.
Even their name means "those who run fast" and some historians say they have been running deeper and deeper into the canyon range for centuries.
Lorena Ramirez, a 23-year-old ultra-marathon runner, recently won one such 100-km race, deep in the Sierra Madre's Copper Canyon in Mexico, wearing a long skirt and plastic sandals.
How does she prepare for a race? A single banana, a bite of croissant and a cup of a traditional Mexican drink made of milk, corn, herbs and brown sugar. Ramirez doesn't stretch, but she is focussed.
Why does she run? "Because I'm good at it," she told NBC's Left Field.
Want to see more from Left Field?
Paralympian defies death and expectations on the pitch
Too much happiness? Resisting the self-help craze in Denmark