A mat with a giant picture of Donald Trump exists and you can jump on it
Comments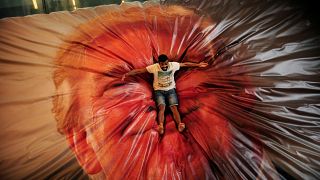 Ever wanted to jump on a giant mat with US President Donald Trump's face on it? You might actually be able to do it.
Dutch photographers Thomas Mailaender and Erik Kessels who are presenting their art installation "Jump Trump" this weekend at the Getxo Photo international photography exhibition in Getxo, Spain, allows visitors to jump from a trampoline onto a mat with Trump's face printed on it.
The exhibitors describe the artwork as "interactive and irreverent installation [...] simply irresistible."
But, similar to any life-threatening installation piece, exhibitors warn visitors to jump at their own risk. 
This GIF gives a pretty clear idea of what happens to Trump's face when people jump on it.
The exhibition will be running until Sunday, September 9.