Jim Carrey's artistic takedowns of Donald Trump start a buzz
Comments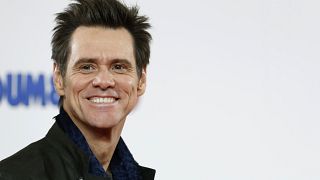 Actor Jim Carrey has had a rough time of late, with a personal life in turmoil and marked by tragedy, and his reputation damaged.
What's more, the thing which he does best and which made him one of the world's best-paid movie stars ─ acting ─ appears to have lost its shine and Hollywood doesn't seem to come calling as much as it did when he was reeling off hit after hit.
Instead, the 56-year-old has turned to art, and unlike some celebrities who take up the brushes or change media in mid-stream to try something else, he seems to making a decent fist of it. Like the man himself, the works are bursting with colour and display anarchic lines and slightly off-kilter subjects.
What's creating something of a stir, however, is the political direction Carrey's art is taking.
The 45th President of the United States really appears to have got Carrey's goat, and he has laid into Donald Trump with a visible relish.
Carrey has a keen eye for faces and has produced some very decent caricatures, including one of himself as he mocked the backlash against his attacks on Trump and his administration.
He has been furiously tweeting his anger at the Republicans' stance on gun laws especially, but also on a range of what he sees as policy failures and failures of probity within the current Republican leadership.
But in the main his prime target has been Trump himself.
Some of the compositions are quite imaginative and incorporate key figures or aspects of the Trump presidency, and while some may be cliched, others are less so.
One more of The Donald? You know you want it...
Oh, go on. Twist my arm...
So, is Jim onto something here, or is he just another celebrity indulging himself`? It would certainly be a turn-up for the books if Carrey emerged as one of the artistic commentators of the Trump era. At the moment, he seems to be making all the running...