British woman set to travel the length of Hudson River on paddle board
Comments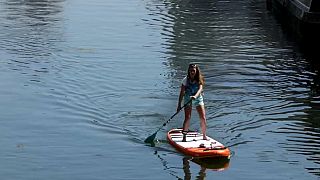 A British environmentalist has decided to travel the length of the Hudson River in the US on a paddle board.
The purpose of the journey is to highlight the issue of plastic pollution, ocean health and its role in climate change through a series of scientific sampling and community outreach initiatives on her route.
Lizzie Carr will paddle for eight days consecutively to cover the 275 km (170 miles) long journey, launching from Albany in New York State on 6th September and finish at the foot of the Statue of Liberty in New York City.
She will be carrying 20kg of equipment on her paddleboard, including a tent and supplies along the river.
Lizzie said she prepares for the journey with 'lots of time on the water and lots of time in the gym,'
"It's not really something you can prepare for, in terms of understanding the scale of what you are doing, I think you just got to get out there and get on with it," she said.
Lizzie launched Plastic Patrol in the UK two years ago to 'engage people with the issue of plastic pollution through adventure and nature,'
"I've had such a huge response, there has been such a shift in the way people are looking at plastic pollution now and kind of the impact it's having on our environment," Lizzie said.