Watch: Mexico breaks record for largest torta sandwich
Comments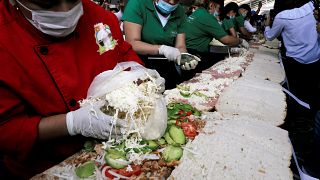 Copyright

REUTERS/Henry Romero
Throngs of people gathered to make the world's biggest torta sandwich in Mexico City.
The torta, which is a Mexican delicacy made of flatbread, weighed 865 kilograms and measured 70 meters in length.
The mega sandwich set a new record for the longest sandwich of any kind made in Latin America.
Thousands of flatbread pans, lettuce heads and stems of tomatoes were used for the record attempt, which took place in Venustiano Carranza.
More than 60 ingredients were used in total, ranging from mayonnaise to onions.
This year marks the fifteenth year in a row that Mexico has broken the Latin American record for the longest sandwich.
The nation set the record at 66 metres in 2016, while breaking the world record for the largest amount of guacamole in 2017, at 3 tonnes.
The tortilla record event aims to promote gastronomy and the status of the torta sandwich.
A tortilla is commonly found on the menu in Mexican restaurants. Tortilla translates to "small torta".