Dutch Mohammad cartoon contest sparks protests in Pakistan
Comments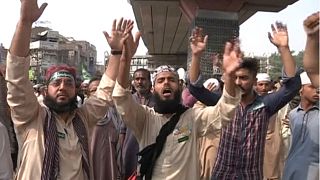 Thousands of Pakistanis yesterday demonstrated calling for the country's Dutch ambassador to be expelled over a controversial Mohammad cartoon contest.
The contest is organised for later this year by anti-Islam lawmaker Geert Wilders.
With an €8,563 prize, it invites people to submit cartoons depicting the Muslim Prophet Mohammad, an act that Islam forbids.
Tehreek-e-Labbaik (TLP), a political party dedicated to the punishment of blasphemy, organised the demonstration in Pakistan.
Several thousand protesters marched in the eastern city of Lahore holding a banner that said they were holding a "peaceful protest" and chanting "we will die to protect the honour of the prophet".
They called for the expulsion of Dutch ambassador Ardi Stoios-Braken and demanded that new Prime Minister Imran Khan's government withdraw Pakistan's ambassador and cut diplomatic ties with the Netherlands.
A similar protest held by TLP last year saw Pakistan's capital Islamabad shut down for nearly a month.
It is the first challenge for Khan's Pakistan Tehreek-e-Insaf (PTI) administration.
The Dutch prime minister, Mark Rutte, distanced his government from the event and labelled it "disrespectful" but said it could go ahead on the grounds of freedom of expression.
Wilders posted a cartoon on Twitter suggesting Islamic extremism has "damaged Muhammad more" than an artist with a pen.
Images of the prophet are traditionally forbidden in Islam and caricatures are regarded by most Muslims as highly offensive.