European far-right parties seek to unify at Prague conference
Comments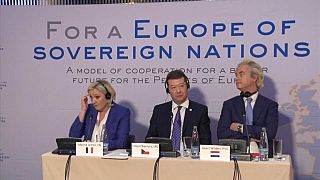 Leaders of Europe's far-right parties have gathered in Prague to discuss their views and unify their stance on immigration and other issues.
France's National Front leader Marine le Pen and Geert Wilders of the Dutch Party for Freedom met at a heavily fortified hotel in the Czech capital as part of the nationalist Europe of Nations and Freedom coalition.
Le Pen said: "We should remind you all that none of us are xenophobic. We are opposed to the European Union because we believe it is a catastrophically disastrous organisation. Migration is close to unbearable, our respective cultures are being destroyed.
"We like diversity. I like the Dutch to be Dutch, I like the Czech to be Czechs, I like the French to be French, I like the Italians to be Italian."
Le Pen's stance on immigration was echoed by Wilders, who called Europe to take a leaf out of Donald Trump's book and put a travel ban in place.
"We must adopt a totally new strategy. We must have the courage to introduce travel bans as president Trump has done in the United States. We must have the courage to send every boat with illegal immigrants back, as Australia is doing for such a long time," he said.
"We must have the courage to restrict legal immigration instead of expending it even if we sometimes have to build a wall as the brave Hungarians have done- I applaud them for that. We must have the courage to repatriate illegal immigrants."
However, despite the Czech Republic's increasingly right-leaning government, those attending the two-day conference were greeted by throngs of booing protestors.
The conference was hosted by the anti-Islam and anti-immigrant Freedom and Direct Democracy party, which won 11 percent of the vote in the Czech parliamentary elections last year.