Dutch Prime Minister sees off challenge from anti-Islam Geert Wilders
Comments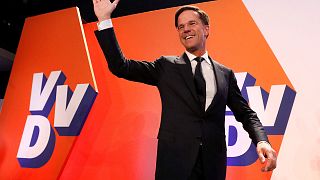 Anti-Islam firebrand Geert Wilders has accepted defeat in the Dutch election, offering relief to European leaders facing a wave of nationalism.
The latest data suggests Prime Minister Mark Rutte's VVD party will take the largest share of seats in the Dutch parliament, with almost 95 per cent of votes counted.
The centre-right liberal leader said the Dutch people had spoken out against "the wrong kind of populism".
According to Dutch broadcaster NOS, data suggests Mr Rutte is expected to retain 33 seats, down from 41.
Mr WIlders has clinched 20 seats, up from 15, and one seat ahead of rivals the Christian Democrat CDA and centrist Democrats 66.
The controversial figure who tipped to win the battle in the early stages of the campaign has already warned Rutte "you have not seen the last of me".
Admitting defeat, he added: "A victory but not the victory we hoped for."
A beaming Mr Rutte told cheering crowds at The Hague: "It is an evening in which the Netherlands, after Brexit, after the American elections, said 'no' to the wrong kind of politics."
A sigh of relief was felt across Europe, with the election seen as a critical test of mainstream politics versus populist upheaval, ahead of upcoming elections in France and Germany.
France's foreign minister congratulated the Dutch for seeing off the challenge from the far-right.
While Germany's foreign minister said the results are a 'strong signal for Europe'.
EU Commission President Jean-Claude Juncker hailed the result as a vote against extremists.
However, political analysts said Mr Wilders has succeeded in influencing other parties to lean further to the right throughout the bitter campaign.
The exit polls helped the Euro rise to its highest against the dollar since February 7.
The crucial election attracted 81 per cent of the voting population, the highest turnout in 30 years.
Experts are suggesting the high turnout damaged Wilders' chances of coming out ahead.
PM Mark Rutte led a two-party coalition, but the latest seat projection shows he will need four to get a workable government, and that process could take months.
Rutte made clear in a debate he wouldn't be willing to accept Wilders as a coalition partner saying "Not, never, not."
One of the biggest upsets comes for the Labour party PvdA, which has seen a dramatic drop in seats. But in their loss, others gained, most notably the Green party, GroenLinks.
The election has been widely seen as a test of far-right populism in Europe, with Rutte saying the Dutch vote was the quarter-final, before a French semi-final and a German final, with elections coming up in France and Germany later this year.
Dutch election in quotes