What exactly did the Pope say on psychiatric help for gay children?
Comments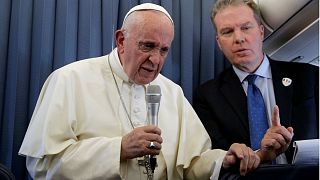 Pope Francis made comments on Sunday on how parents should treat children that display homosexual tendencies as he was flying back to Rome from Ireland — a country with an openly gay leader.
It came as Archbishop Carlo Maria Vigano called for the pontiff to resign claiming he knew about sex abuse allegations against disgraced ex-Cardinal Theodore McCarrick for years, with some claiming the two events was the sign of a coup against Francis from conservatives in the church.
The Vatican has since rolled back on the comments. When the dialogue was later published, the reference to psychiatry had been removed.
A Vatican spokeswoman told AFP news agency the measures had been taken to not "change the thoughts of the Holy Father".
"When the pope referred to 'psychiatry', it is clear that he was doing it to highlight an example of 'things that can be done'. But with that word he didn't mean to say that it (homosexuality) was a 'mental illness'," she said.
The Pope's comments on the plane were reported differently across European and international media. But since then, video footage of the answer has surfaced.
Here's the question that the Pope was asked and his response, translated from Italian. The exchange can be viewed in the video player above.
Transcript of the Pope's answer
Journalist: What would you tell the father of a child who just came out as gay?
Pope: Your question is clear; what I would say to a father who sees that his son or daughter has that tendency?
I would say first to pray. Do not condemn, open dialogue, understand, make room for the son and daughter. Make room for it to be expressed.
Then, what age is the child when this restlessness manifests itself? It's important.
It is one thing when it manifests itself from childhood, when there are a lot of things to be done, with psychiatry, or…to see how things are.
It's another thing when it manifests itself after 20 years or something like that.
But I will say that silence is never a remedy. Ignoring a son or daughter with homosexual tendencies shows a lack of fatherhood and motherhood.
You are my son, you are my daughter, as you are. I'm your father or your mother, let's talk.