Netflix has six films in this year's Venice Film Festival
Comments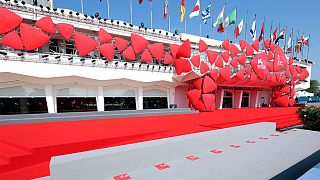 When Ryan Gosling gets off the boat at Venice Lido this week, it will be one small step for the Hollywood actor, but potentially another leap for the world's oldest film festival.
Gosling's "First Man", in which he plays pioneering astronaut Neil Armstrong, opens a festival that has recovered from a period of decline and is increasingly seen as the first showcase of the season for potential Oscar winners.
That prestige - in addition to Netflix's decision to boycott the Cannes festival in May over a dispute about streaming versus theatrical distribution - has lured an array of A-list actors and directors to Venice.
"The number of talents and stars is so huge that it's impossible to remember all their names now," said artistic director Alberto Barbera.
He has rebuilt the festival's reputation in recent years by screening a raft of Hollywood arthouse pictures, such as "Gravity", "The Shape of Water" and "La La Land", that went from Venice to Oscars glory.
"Now the Mostra is back again as much as it was in the past," Barbera told Reuters, using the Italian name for the festival.
The Mostra opens on Wednesday with "First Man", which reunites Gosling with Damien Chazelle, who won Best Director for "La La Land", the musical that was initially awarded Best Picture in the notorious mix-up during the 2017 Oscars ceremony where the actual winner was "Moonlight".
Chazelle, 33, has said his new film is "about the Moon and the kitchen" - aiming to show the personal side of the epic space adventure that saw Armstrong, as a member of the 1969
Apollo 11 mission, become the first person to walk on the Moon.
"That's one small step for man, one giant leap for mankind," Armstrong said as he alighted on the lunar surface.
It is one of 21 movies from Europe, Japan, Australia and the Americas competing for the Golden Lion, Venice's top prize.
Lady Gaga brings pop glamour as the leading lady in "A Star Is Born", acting opposite first-time director Bradley Cooper in a film premiering out-of-competition.
In her first major film, Gaga follows movie-music giants Judy Garland and Barbra Streisand - who played in 1954 and 1976 versions - in the role of an aspiring singer mentored by an older performer as his own career crumbles.
Netflix, which snubbed Cannes due to French rules that ban simultaneous streaming of films shown in movie theatres, brings six movies to Venice, some of them frontrunners for prizes.
Alfonso Cuaron, whose last film, "Gravity", won him Best Director Oscar, has made a Spanish-language, black and white, autobiographical drama "Roma", set in his native Mexico - something he has said traditional Hollywood studios were unlikely to fund.
The Coen brothers, who initially planned to make "The Ballad of Buster Scruggs" as a Netflix series, have instead produced it as a movie anthology of Western stories, with Liam Neeson and Tom Waits among the cast.
Paul Greengrass, director of the Jason Bourne action movies, returns to the real-life terror of his 9/11 film "United 93", with a drama about the attack by Norwegian neo-Nazi Anders Behring Breivik on teenagers at a summer camp in 2011.
And if three living A-list directors were not enough for Netflix, it is bringing back one from the dead with "The Other Side of the Wind", a completed version of a film Orson Welles began in the 1970s but had not finished by the time of his death in 1985.
The only woman director with a film in the main competition is Australian Jennifer Kent, following up her 2014 psychological horror "The Babadook" with grisly drama "The Nightingale".
Veteran British actress Vanessa Redgrave, who is 81, will be honoured with the Golden Lion career prize.
And Canadian film Director David Cronenberg is to receive a Lifetime Achievement Award for his work.
With a jury headed by "The Shape of Water" director Guillermo del Toro, the Venice Film Festival runs from Aug. 29 to Sept. 8.