Watch: Etna 're-awakens' with eruptions of ash plumes and lava
Comments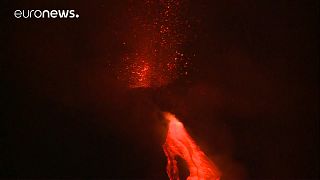 Mount Etna has reminded the world that she remains active, after sending plumes of ash and dust to the skies.
Italy's National Institute of Geophysics and Volcanology (INGV) said that the volcano in Catania, southern Italy, "re-awoke" in late July.
On August 23, the volcano shot lava bombs as high as 150 metres into the air while lava continues to spew from the crater.
Etna is a stratovolcano, with a characteristic conical shape created through the build-up of ash and tephra from eruptions over the past 500,000 years.
The most active volcano in Europe suddenly sprang to life in 2001 when seismic activity was intensified — and the volcano has erupted several times since.