Greece's pistachio harvest down by almost a third
Comments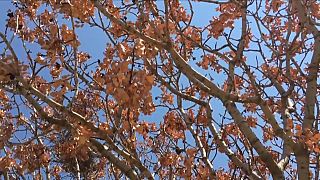 Greece's pistachio harvest is down by 30 per cent after heavy rain in the spring allowed bacteria in the soil and harmful insects flourish.
After a longer and milder winter than normal the crops matured earlier and the harvest has almost ended.
The region around the town of Megara is one of Greece's three pistachio producing areas, which is where Nicholas Babis has farmed for 40 years.
"Harmful bacteria in the soil caused the damage. They erode upwards from the root," he said.
In his orchard of over 300 pistachio trees near Megara, almost every plant was affected. Some of the nuts shrivelled and even turned black.
"Over 20 per cent of pistachio trees in this area have been infected with a disease while five to six per cent of the trees are dying because of it," said Laihaonidas Hakiis, an expert on agricultural engineering. 
Frequent heavy rain from April to June made the environment humid and this also boosted the breeding of harmful insects.