Pope Francis prepares for Ireland visit amid calls for action on abuse scandals
Comments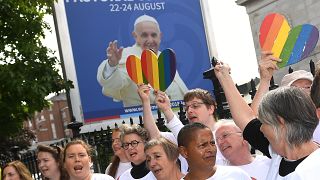 Pope Francis arrives in Dublin on Saturday for a two-day visit to Ireland at a time when the authority of the Catholic Church has been deeply damaged by sexual abuse scandals.
The Vatican has confirmed that he will meet abuse survivors during his trip, during which he will also attend the World Meeting of Families in Dublin and take part in Masses in the capital and in County Mayo.
Protesters are set to stage several demonstrations to focus on what they see as the Church's failure to address the abuse of children by the clergy, and the cover-ups among the hierarchy.
Others want to highlight their opposition to the Church's stance on issues such as homosexuality. The "Rainbow Choir", made up of LGBTI singers, staged a protest against their exclusion from the international families event.
Organisers of this weekend's demonstrations have called for the pontiff to acknowledge that the Vatican wilfully hid crimes committed by members of the clergy to protect the Church.
Ireland's prime minister has called on the Catholic Church to introduce mandatory reporting for clerical sex abuse. Leo Varadkar said concrete actions needed to follow the Pope's recent letter to the world's Catholics, in which he called for an end to cover-ups.
Dublin's Archbishop Diarmuid Martin said in his Sunday homily ahead of the visit, that he hoped Francis would speak frankly about the "darkness" of clergy abuse.
Reports of abuse in Ireland's Catholic institutions go back years. The country was rocked by revelations over church-run homes where unmarried mothers underwent horrific treatment. Babies were forcibly taken from them to be given for adoption. Some years ago an unmarked grave was found containing the remains of hundreds of babies.
The situation today is a world away from the last papal visit, nearly 40 years ago. In 1979 well over two and a half million people came out to welcome John Paul II – almost half the population of the island of Ireland.
Back then, almost nine in ten Catholics went to weekly Mass, and homosexuality and divorce were illegal.
Today, Ireland has a gay prime minister and has voted for same-sex marriage and to overturn the ban on abortion.
The Catholic Church is divided on whether to move with social change, or to stick to its traditional teaching – and in some quarters the current pope's message is seen as inconsistent.
Pope Francis faces a major challenge in seeking to reconcile the different views, at a time when for many the Church has lost its moral authority.