Pope Francis apologises in letter to all the world's Catholics
Comments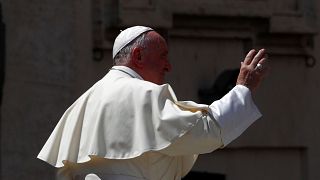 -
It's a first from the Vatican- a Pennsylvania grand jury investigation has prompted Pope Francis to address a 2,000 word letter to all the world's Catholics, 1.2 billion people, condemning sex abuse of minors by the church. Previous letters were addressed to the faithful in specific countries, but sex abuse scandals continue to rock the Catholic Church the world over. The Grand Jury found abuse committed by 300 priests over 70 years. More than 1,000 child victims were identified, and many more are thought to have been abused.
In the letter, he said that the church had failed in many ways.
"We acknowledge as an ecclesial community that we were not where we should have been, that we did not act in a timely manner, realizing the magnitude and the gravity of the damage done to so many lives," he wrote. "We showed no care for the little ones; we abandoned them."
But some victims says it's too little, too late. Shaun Dougherty contributed his story to the Pennsylvania grand jury report.
"The last three popes should have made that statement," he said. "They are really behind the times on this. There is a lot further that he needs to go"
Much of the anger comes from this being the first large scale church sex abuse scandal in the United States since 2002- victims say that not enough quantifiable action has been taken since then.
On Friday, religious leaders in the US called on all active bishops in the United States to step down, in an echo of the 31 Chilean bishops who attempted to resigned in the wake of a sex abuse scandal in that country. Only five resignations were accepted by the Vatican.