Angela Merkel visits Georgia to discuss refugees
Comments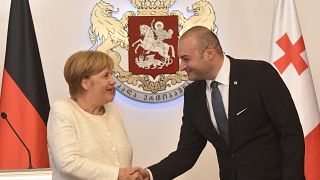 Angela Merkel on a visit to Georgia. It's the first stop of their trip to the Caucasus.
One of the topics on the agenda is refugees. Merkel wants to put Georgia on the list of safe countries of origin. It was also about relations with Russia, which has effectively controlled parts of Georgia since the war ten years ago.
Angela Merkel German Chancellor says, "We are in very close discussion about other issues related to Ukraine and we are trying to solve this conflict - I believe these conflicts are all somewhat connected. Unfortunately, we have seen little progress there despite strenuous efforts. I can only assure you that we will not forget this injustice and that we will make sure that it remains on the agenda."
Georgia is striving towards the EU and NATO,Russia is against it. Merkel's next stops are at Armenia and Azerbaijan.