Tiger Woods wants to join US Ryder Cup team
Comments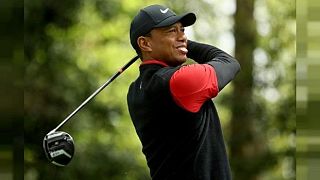 Tiger Woods says he wants to be part of the US Ryder Cup team.
It's as he prepares to continue his resurgent season at the Northern Trust Open in New Jersey on Thursday.
Speaking at a press conference on Tuesday, Woods reflected on a season which has seen him contend in a number of high profile events, including the last two major championships.
"I told Jim I wanted be a part of the whole team, not just as a vice-captain but as a player. And I'm very close to making that happen. It's been a long year and that was one of my goals was to make that team, to be a part of that team, to be one of the 12 best players and I'm kind of training towards that."
Surprisingly, the 14-time major champion is yet to win the Northern Trust Open - formerly the Barclays - but is one of the favourites in a stellar field this week.