Russia is 'looking for a nuclear-powered missile that went missing': US intelligence sources
Comments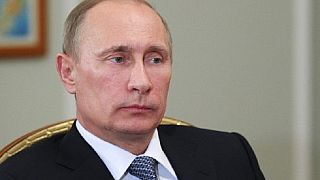 Russia is preparing to search for a nuclear-powered missile that was lost at sea months ago after a failed test, according to sources with direct knowledge of a US intelligence report.
President Vladimir Putin said earlier this year that the new missile had an unlimited range. He unveiled the new nuclear-powered missile in March this year.
However, US intelligence sources told CNBC his claims were false because four test flights between November and February all ended with the missiles crashing.
Russian experts are getting ready to recover one of the crashed missiles amid fears it is leaking nuclear material into the Barents Sea, US intelligence sources told Euronews' affiliate channel.
They quoted its sources as saying that the missiles had crashed because the "nuclear-powered heart of the cruise missile failed to initiate".
The recovery operation will include three ships, one of which is equipped to deal with radioactive material.
Hans Kristensen, director of the Nuclear Information Project at the Federation of American Scientists, told CNBC: "It goes without saying that if you fire a missile with a nuclear engine or energy source, that nuclear material will end up wherever that missile ends up."
He added: "If this missile was lost at sea and recovered in full, then you might hypothetically be able to do it without pollution, I would have my doubts about that because it's a very forceful impact when the missile crashes. I would suspect you would have leaks from it."
Russian presidential spokesman Dmitry Peskov told reporters on Wednesday that the Kremlin is unaware of the unsuccessful test.
"In contrast to the U.S. television network, I have no such information," he said, adding that journalists with questions should contact specialists at the defence ministry.