Colorado father charged with 5 counts of murder in deaths of wife, daughters
Comments
By Alex Johnson with NBC News U.S. News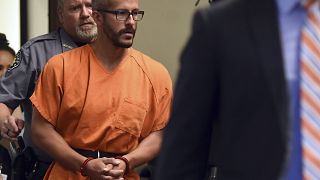 -
The Colorado man who had pleaded publicly for the safe return of his missing wife and two young daughters was charged Monday with five counts of murder.
Christopher Watts, 33, of Frederick, Colorado, a suburb north of Denver, was being held without bond in the Weld County Jail pending a bond hearing on Tuesday. He is also charged with a single count of unlawful termination of a pregnancy and three counts of tampering with a deceased human body.
The murder charges relate to the deaths of Shanann Watts, 34, Bella Watts, 4, and Celeste Watts, 3, who the Colorado Bureau of Investigation said were killed last Monday. Watts was charged with two counts of murder for each of the girls, the second counts specifically citing the death of a child who "had not yet attained twelve years of age and the defendant was in a position of trust."
The causes of death weren't made public, but prosecutors alleged that Shanann Watts died "as a result of the unlawful termination of her pregnancy." Defense attorneys, meanwhile, sought DNA swabs of the children's necks, informing the court that they had engaged an expert specializing in strangulation.
Shanann Watts' body was discovered on the property of the oil and natural gas company that Christopher Watts worked for, prosecutors said, and defense attorneys indicated in court documents that the girls' bodies were found in an oil well filled with crude oil. The oil company, Anadarko Petroleum Corp. of Texas, fired Christopher Watts the day he was arrested.
The Wattses presented themselves as a happy family on social media, but a bankruptcy filing from 2015 indicated that they were in significant financial distress, with debt eating up most of the couple's combined income. They said in the bankruptcy filing that they had two savings accounts with less than $10 and a joint account with less than $870.
Watts briefly kept up the facade after his family were reported missing last Monday, telling reporters that he was "torn up inside" and that he wanted "everybody to just come home." But shortly before he was arrested, police alleged that Watts had confessed to having killed all three of them.