Nashville on edge as police hunt 'cold-blooded' murder suspects
Comments
By Tim Stelloh with NBC News U.S. News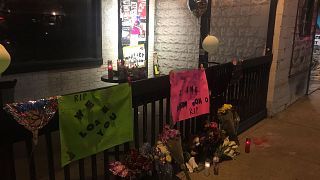 Nashville was on edge Sunday as authorities searched for what a local police official described as a pair of "cold-blooded killers" who allegedly gunned down two people celebrating a birthday.
Authorities said the suspects in Friday's shootings may be linked to a string of recent crimes, including four attempted robberies and the killing on Tuesday morning of 31-year-old Kendall Rice as he walked to the bus stop to go to work.
"It's definitely scary," said Nashville resident Hannah Thompson. "It struck a lot of fear in me and makes me nervous to get home at night."
Police identified Friday's victims as Bartley Teal, 33, and Jaime Sarrantonio, 30, both of Nashville. They were killed after leaving The Cobra — a music venue and bar in east Nashville — around 3 a.m. (4 a.m. ET) and heading to a nearby convenience store.
"They then walked back to The Cobra bar parking lot where they and two other persons — a man and a woman — were confronted by these two individuals with at least one gun," Nashville police spokesman Don Aaron said. "Mr. Teal reported it was a robbery and he was fatally shot. A short time thereafter Ms. Sorrentino was shot."
"These are just two senseless cold-blooded homicides," Aaron said, adding that the motive for Sorrentino's shooting remained under investigation.
A police statement said the two other robbery victims with Sarrantonio and Teal were not shot.
Friday was Teal's 33rd birthday, NBC affiliate WSMV reported.
Nashville Metro Police Department Commander David Imhof told reporters that timing and suspect and vehicle descriptions led investigators to believe Friday's killings may be connected to Rice's fatal shooting and four attempted robberies, according to The Tennessean.
"We are investigating these cases as possibly related," Nashville police spokeswoman Kristin Mumford told NBC News. "There are similarities, but have not been definitively connected."
During one of the attempted robberies, the wife of a crew member of the band OneRepublic was shot in the back while she walked her dogs, the band said in a video on Twitter.
She "lost her spleen, it hit her spine, she's now in a wheelchair and going through multiple surgeries," the band's frontman, Ryan Tedder, said in the video.
Police described the suspects as two black men in their 30s — one of whom has dreadlocks — who were seen in a small Chevrolet.
The spate of shootings left the city rattled. The Cobra closed its doors Saturday and held an event for friends and family of Teal and Sarrantonio, while police warned residents to remain vigilant.
"We're obviously telling folks to be in groups, be careful, be very cognizant of your surroundings and of what's going on," Imhof said.