Yosemite's Ferguson Fire declared fully contained
Comments
By Alex Johnson with NBC News U.S. News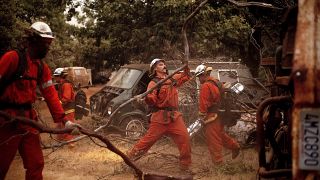 -
LOS ANGELES — The Ferguson Fire, which killed two firefighters and burned almost 100,000 of protected forestland near Yosemite National Park in California, was declared 100 percent contained on Sunday.
The fire, which has been burning since July 13, closed Yosemite Valley for a time during the height of the summer season and required more than 3,000 firefighters to control.
"While we have reached a significant milestone there is still more work to be done," the joint federal-state-local incident command team said Sunday.
Patrol and mop-up activities will continue for some time, and some unburned vegetation will continue to ignite during the hottest times of the next few days, incident commanders said. But those incidents "are not a threat to containment lines," they said.
A main roadway through the region, Wawona Road from Chinquapin to Tunnel View, is expected to reopen on Friday, incident commanders said.
In all, the fire burned through 96,901 acres and destroyed 10 structures in Sierra and Stanislaus national forests.
The park's Yosemite Valley — home to attractions like El Capitan and Half Dome Rock — was closed on July 25 and didn't reopen until last Tuesday, its longest closing in nearly two decades.
Summer is often the busiest time of year, when travelers flock from around the world. Officials estimated financial losses of several million dollars.
Two firefighters, Braden Varney and Brian Hughes, were killed, and 19 injuries were reported. The cause of the fire remains under investigation.