Supporters of second Brexit vote rally in Scotland
Comments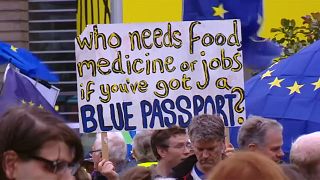 Hundreds of people held a rally in Scotland's capital Edinburgh on Saturday to call for a second vote on the UK's EU membership. The demonstration comes after a YouGov poll found that 45 percent of voters now support holding a new referendum on the final Brexit deal.
In another development, the multi-millionaire founder of the fashion label Superdry has donated 1.1 million euros to a group called The People's Vote, which is demanding a second poll on any final deal.
Some of those who support plans for the UK to leave the EU have warned of the effects a second vote could have on Britain.
They believe another referendum would trigger a major constitutional crisis with uncertain consequences