Autostrade pledges to build a new bridge
Comments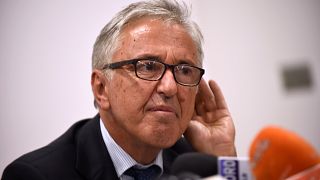 As an investigation into the bridge collapse continues, the Italian toll-road operator pledges to rebuild a bridge.
It'll use funds it's set aside for a disaster recovery mounting to around €500 million.
At a press conference held after the state funeral, Autostrade's Chief Executive voiced his deep condolences for the victims' families but declined to give an unreserved apology.
Autostrade Chief Executive, Giovanni Castellucci says, "The first thought, the first action, obviously goes to the families of the victims. We have allocated and made available a fund for immediate needs, obviously independent of compensations and legal aspects."
The funds will help bereaved families and people who had to leave their homes close to the bridge.
President Mattarella toured the remains of the bridge and mangled debris as well as meet some of the 300 rescue workers.
He's demanded guarantees that all the nation's roads are safe