'I saw the car disappear into the clouds': Survivors of Genoa's bridge collapse share their stories
Comments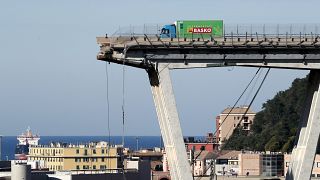 One man became trapped in rubble while suspended 20m above ground, another plummeted 40m to the bottom as Morandi Bridge gave way, but walked away with barely a scratch.
A medical worker recounted seeing a little girl screaming in the middle of the road as the structure crumbled, while a mother described clutching her daughter's hand as they waited for rescuers to find them in the debris.
So far, at least 15 people are known to have escaped Tuesday's incident in Genoa with treatable injuries, while seven others have been pulled from the rubble. Dozens of witnesses have also been sharing their accounts of what happened.
Here are some of their stories:
'I started removing stones from her face and mouth'
Marina Guagliata held her daughter Camilla's hand as she lay under rubble until police officers and firefighters could rescue them. The pair were standing inside Amiu, a waste management building along the Polcevera river, when they were engulfed by debris.
"Camilla is in more serious condition with broken hips, but today we are finally sure that she will make it," says Marina, 58, of her 24-year-old daughter as they are tended to by doctors at Villa Scassi Hospital in Genoa.
"I felt that she was there below (the rubble), but close to me," she continues. "I began to remove the stones from her face and mouth, then I lost consciousness.
"In a moment everything collapsed, but I remember almost nothing. Camilla told me that I started screaming, but perhaps only today, after two days, am I beginning to remember what happened."
'I ran like Usain Bolt'
Valentina Galbusera, a haematologist who works for Villa Scassi Hospital, was waiting in a queue of traffic on the motorway bridge when it began to crumble. She told Italian newswire ANSA: "I was in the queue and it was pouring down with rain. At some point, I saw the pillars of the bridge collapsing as if they were the Twin Towers. I tried to put the car on reverse gear and manoeuvre 600 metres backwards.
"Further down the road, the (supermarket chain) Basko truck had stopped before the gaping hole. A young man left his car and started running … I got out of my car as well. There was a little girl in the middle of the road who was screaming: 'The bridge is going down'.
"I ran like Usain Bolt until I was safe. It was a miracle [I survived]."
'I saw the car disappear into the clouds'
The unnamed driver of the famous green Basko truck described seeing traffic vanish ahead of him as the road "trembled" beneath him.
"A car just overtook me. I saw it coming in the mirrors. It overtook me and was moving ahead of me. We had just entered the bridge," said the 37-year-old.
"It was raining a lot, pouring down, it was not possible to go faster. When it overtook me, I slowed down as it was impossible to maintain a safe distance otherwise.
"But at some point, everything trembled. I saw the car disappear into the clouds, then I raised my eyes and saw the pillar coming down.
"I hit the brakes, almost locking the wheels. When I saw the hole underneath, I instinctively backed up and put on the reverse gear to escape that hell."
The driver fled unharmed. He added: "I understood that everything had collapsed, that I must run away. I left the truck and started running. I saw other drivers in the rain and told them to do the same. I don't know how is it possible, but I am alive."
'If only they stopped once more … they would be safe now'
Ukrainian-Moldovan couple Nataliya Yelina and Eugeniu Babin from Caserta, Italy, were pulled from the rubble by firefighters and are being treated for spinal injuries in hospital, Pasquale De Rosa from www.casertareport.it, who knows the couple, told Euronews.
"They are bandaged all over and are in a state of shock … they were going to Nice for a quick holiday and had left Caserta the previous day at 4 pm", says De Rosa, whose family owned a barber shop which is now run by Babin and Yelina. "If only they stopped once more on the road for a cigarette they would be safe now.
He continued: "We found out what happened to them because Nataliya's 17-year-old son (from a previous relationship) called her to say hello, but instead of his mother, a firefighter had picked up her phone and answered.
"He was looking for her under the rubble and he told him what happened."
'It's a miracle he is alive'
"He says he can only remember firefighters telling him not to move. He was stuck in the rubble, suspended 20 metres above the ground," Giulia Organo, 28, said of her boyfriend Gianluca Ardini, 29. The sales worker was sitting behind the wheel of his van on Tuesday when the bridge gave way.
"I believe the will to see the birth of his son gave him the strength to hold on", she told ANSA. Organo is nine months pregnant with a baby boy.
"It's a miracle that he is alive, I can't find other words to describe it."
Ardini suffered a fractured shoulder in the fall, but a colleague of his, however, didn't make it. His baby is due next month.
'Genoa 9/11'
The incident has been referred to as "Genoa 9/11" by a local resident in his blog.
Riccardo Gazzaniga, a published author, said he looked at the bridge from his kitchen window after his brother told him part of it had collapsed.
He added: "The neighborhood has plunged into total silence. You can only hear sirens and the noise of helicopters. The inhabitants of this city are too shocked, even though they have witnessed terrific floods in the past with rivers dragging away people, and towers of the port collapsing.
"When my wife returned home, she came to the window and said 'Oh my god, oh my god'. We embraced: We are here, we are at home, we are alive"
'An apocalyptic film scene'
David Capello, 33, a former footballer and firefighter, fell 40 metres as the bridge gave way beneath his car. He told Euronews: "I was driving along the bridge as it was raining. I then heard a very loud noise, I saw cars crashing and at one point I felt something dragging me down. My car fell on a pylon; something was holding onto me but I managed to get out of the car. It was indescribable.
"I saw cars crashing in front of me. It was like an apocalyptic film scene, all in a matter of seconds. I was lucky compared to what happened to others. It's a tragedy.
What's next for the survivors?
The Basko truck driver, along with Galbusera, Capello, Ardini, the Guagliata family, and Babin and Yelina were lucky to escape the carnage with their lives. But "the worst is yet to come" according to Psychologists Stefania Deodato, Laura Cassola and Paolo Peloso, who say their return to normalcy will be long and difficult.
They told ANSA: "some people had acute stress reactions with emotional crisis and panic attacks. Globally, however, the people we treated generally had positive reactions, no psychological or movement blocks but only emotional distress. But the worse is yet to come: post-traumatic disorders come up sometimes after weeks or months. Sometimes things get resolved without any intervention but sometimes people show resilience and some physiological help is necessary to overcome the trauma"